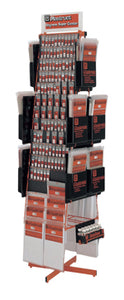 STYRENE SUPER CENTER
Option "2" of our Styrene Super Center is basically ONE package of each product found on our 09081 as opposed to two packages.  This attractive rotating floor display contains 300 different Products totalling over 332 retail packages, and requires less than four square feet of floor space.   The sturdy, colorful, rotating base allows full accessibility to all products and all product locations are marked for easy reordering and restocking.
This display contains White Styrene structural shapes, strips, rod, plain and patterned sheets along with one dozen each of our Plastic Weld Cement and our Bondene Cement.