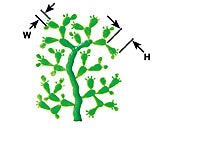 PLASTREES PEAR CACTUS

Unique Pear Cactus for instant southwestern landscaping. Create your own configuration of plants by simply cutting apart the cacti pods (beaver tails). Plant as is, or paint a flat light green for added realism. Injection Molded in Green Styrene Plastic. Dimensions are approximate and may vary.

Quantity shown is for the number of Pods on the plant.

UPC Package Quantity represents the total pieces in the package, and is the same quantity as listed in our printed Catalog.