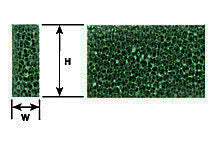 READY-MADE FOAM HEDGES

Use for hedges on your layout or architectural models. Also great for doll houses. May be used as is or add ground foam foliage for color and additional texture. Plant directly on the model base using white glue to keep in place. Hand Fabricated of Green Cellular Foam.

UPC Package Quantity represents the total pieces in the package, and is the same quantity as listed in our printed Catalog.