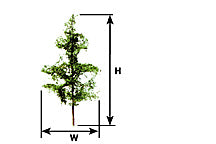 PROTREES PINE TREES

Professional-quality, ready-made, Pine style trees for instant landscaping. Delicate, but extremely realistic. Comes packaged in clear tubes for protection. Completely hand fabricated from twisted wire, fiber strands and foam. Trunks are painted. Height includes the appropriate trunk length.

Dimensions are approximate and may vary.

UPC Package Quantity represents the total Trees in the package, and is the same quantity as listed in our printed Catalog.