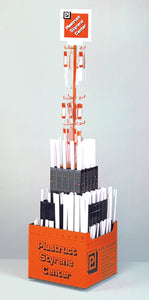 STYRENE PLASTIC CENTER
This popular display contains 92 different products equalling 700 different quality model parts commomly used by professonal Engineers, Architects and Hobbyists. This sturdy and attractive rotating Display allows easy accessibilty to all Products.
Requiring only one square foot of counter-top space with 48" of overall height this display contains WHITE STYRENE plastic angles, beams, channels, columns & tees, zees, round, rectangular and square tubings, strip plastic and rods, ladders, stairs, railings and open web trusses.