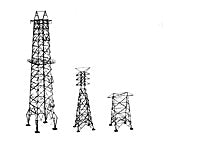 ELECTRICAL TOWERS & OIL WELL KIT

Your modern day countryside layout wonÕt be complete without Electrical Towers. Add life-like realism to your layout with this two-part Kit. Construct these towers in the same manner as your local power company and place them throughout the countryside. Or build yourself an oil drilling rig to supply your refinery. In either case, these graceful structures will add beauty and character to your layout.

Kit contains enough parts to build both Electrical Towers OR one Oil Well.

Dimensions shown are approximate.