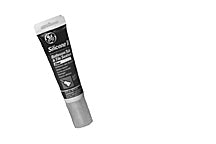 SPECIALTY GLUES

Wilhold White Glue The all-purpose glue for paper, wood, leather, plastics, fabrics, foam and many other common household materials. Sets fast, dries clear and bonds strong. Water resistant. Excellent for home and shop.

Weldwood Wood Glue The all-purpose wood glue. Weldwood sets fast and grips tight. Resists heat, water, solvents, oil and grease. Excellent for home and shop.

GE Silicone II Glue An excellent, thick bodied, flexible glue for general modeling use. Ideal and recommended when gluing Styrene Plain and Patterned Sheets. The thick body fills pattern voids, providing better adhesion. Also ideal as a tree planting glue. Does not melt the plastic, dry out, crack or discolor. Applicator nozzle included.

Note: L Dimension represents liquid contents.