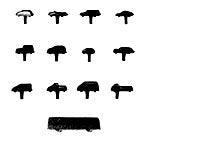 STYRENE PLASTIC 1:500 SCALE AUTOMOBILES

Add detail and scale to your 1:500 scale architectural model with these generic, Eurpoean style automobiles. Also includes one City Bus. Sold in randomly packaged, mixed style assortments ONLY. Precision Injection Molded in White Styrene Plastic.

1:500 Trucks, Buses, Boats and Trains to complement these Cars are also available.

UPC Package Quantity represents the total Vehilcles in the package, and is the same quantity as listed in our printed Catalog.