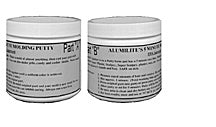 ALUMILTE CASTING MATERIALS

First, Alumilite 10 Minute Silicone Putty (ALUM-1) allows immediate reproduction of almost any small master pattern. Eye-ball equal amounts of the two parts and kneed them together for about 45 seconds. Press your master and, in 10 minutes, you are ready to pour your casting material. 1 lb. (.45 kg.) package.

Second, Alumilite Quick Set RTV Silicone Rubber (ALUM-16) allows fast reproduction of almost any master pattern. Unlike most rubber mold materials, this unique material has a 30 minute working time and cures in just 4 hours. 1 lb. (.45 kg.) package includes catalyst.

Finally, Alumilite Liquid Casting Plastic (ALUM-28) that goes from liquid to solid in just three minutes. It is easy to use, virtually odorless, and will duplicate any part, down to the most minute detail. It can be easily sanded, drilled, machined, painted or even plated. Alumilite comes with equal 14 oz. (414 ml.) bottles of the two-part chemicals, measuring cups, mixing sticks and working instructions.