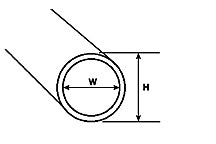 CLEAR ACRYLIC ROUND TUBING

Use in craft or home decoration projects, or in place of our ABS Tubing for tanks, silos and other round structures. Excellent clarity. Precision Extruded in Clear Acrylic Plastic. Ideal for all facets of model building.

See our Clear Acrylic Domes (VHD, VHE or VHH) for use as end caps.