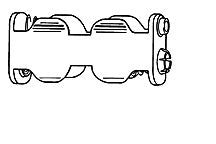 BATTERY HOLDERS & CLIP

AA BATTERY HOLDERS A simple, convenient power source for low voltage requirements. Five different Battery Holders with capacities of 1, 2, 4, 6 and 8 AA Batteries. The single Holder (BATH-1) has its own wiring; Holders for multiple batteries require a 9V Battery Clip (BATC-1) to transfer the power from the holder to wiring.

9V BATTERY CLIP Snap-on clip for 9 Volt Batteries, and to connect multiple AA battery holders, to wiring.