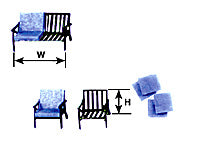 PARK & PATIO BENCHES

Add detail and character to your model or layout with these unique park and patio furnishings, assembled and ready to use. Quantity is an assortment of benches shown. BENCH WIDTH DIMENSION IS FOR TOTAL WIDTH OF ALL PIECES COMBINED. Precision Injection Molded in Styrene or Polyethylene Plastic as noted.

UPC Package Quantity represents the total Benches in the package, and is the same quantity as listed in our printed Catalog.