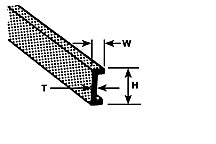 TRADITIONAL ABS CHANNELS

Use for bracing or lightweight vertical support members in the construction of most steel structures. Precision Injection Molded in Dark Gray ABS Plastic.

Ideal for all outdoor or professional model construction where model life is critical. High impact characteristics provide durability, flexibility and longevity of the model.