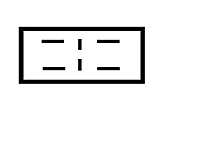 COUPLING SLEEVES

Use for O.D. joining of our Traditional Butyrate Round Tubing and Butyrate Coated Wire for piping systems found in industrial and commercial modeling, and for residential plumbing in dollhouse models. Also useful in model car roll cages, exhaust systems and scratchbuilt chassis. Ideal for stimulating creativity in educational programs utilizing our D&T Packs. Fitting design allows temporary press-fit assembly, however final assembly must be cemented. Precision Injection Molded in Clear Butyrate Plastic.

The H Dimension represents the actual O.D. of the corresponding Tubing/Wire.

See CP for I.D. coupling of our Butyrate Tubing.