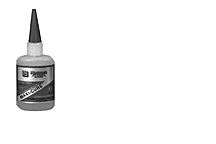 CYANOACRYLATE GLUES, ETC.

HereÕs a broad selection of Cyanoacrylate glues and associated products to meet most difficult bonding requirements. Three thicknesses of commercial quality glues in original and odorless formulas along with a spray accelerator and a very valuable de-bonder give you total control in bonding most hard-to-glue applications. Also available is our industrial strength; much stronger and slow setting and curing, but well worth the wait.

Note: L Dimension represents liquid contents.