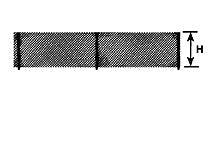 FENCES & RAILINGS

FEN-4 Build your own chain link fence in the same manner as real life. First, install posts (75Ó (1900mm) actual, furnished), then attach fencing. Two (1-1/16Ó (27mm) high by 24Ó (600mm) long actual) strips of fencing included. Furnished height is 8Õ (2.4m)in HO scale. May also be used in other scales. The same material is also available in 7Ó x 10Ó (175mm x 250mm) sheets (see later in this Catalog). To represent razor wire for security fencing, add curled piano wire or the equivalent to the top of your fence.

ALL OTHER FENCES Use for fences commonly found in agricultural, residential, industrial, commercial and many other settings. Some styles may also be used for railings or trellises. Precision Injection Molded in White Styrene Plastic or acid etched in Brass (as noted). Ideal for all model construction.

UPC Package Quantity represents the total Fence in the package, and is the same quantity as listed in our printed Catalog.