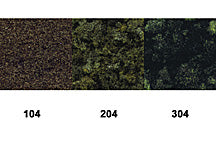 PLASTURF GROUND FOAMS

Quality foliage, brush and turf Foams in three grades and six colors. These professional quality Foams will not dry out, fade or crumble with age and are easily applied using spray adhesives, white glues or silicone adhesives.

Image shows Product actual size.

We offer two other types of foam: our Òcellular ground foamsÓ (have the appearance of lichen) and our extra-fine Òfelt-like ground foamsÓ. See Code Prefix GC- .

Note: L Dimension represents the weight of the contents.

UPC Package Quantity represents the total weight in the package, and is the same as listed in our printed Catalog.