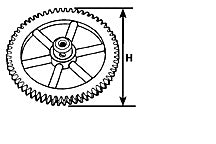 INDIVIDUAL PLASTIC GEARS & GEAR RACKS

A selection of Plastic Gears, available individually, for designing any number of working mechanisms, from vehicles to power generators to conveyor systems. These gears are all high quality, Precision Injection Molded in the listed Plastic. Gears with a 200 and 300 prefix have Brass hubs with set screws to ensure a positive fit. All others are designed for a tight press fit.

H Dimension is the O.D., W Dimension is the Shaft Hole I.D., and T represents the thickness.