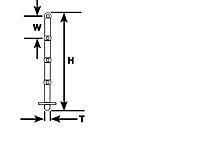 1:16 SCALE ABS HAND RAIL STANCHIONS

Independent hand rail stanchions for circular and non-standard or angled applications. Trimming one or two horizontal junctions allows use in other scales. Designed for use with our MIW-1 or TB-1. 3/32Ó (2.4mm) O.D. Precision Injection Molded in White ABS Plastic. Sold in bags of 10 pcs. ONLY.

UPC Package Quantity represents the total pieces in the package, and is the same quantity as listed in our printed Catalog.