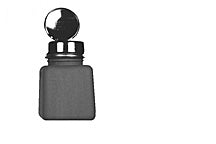 SOLVENT APPLICATORS

SOLVENT APPLICATOR DROPPER (HT-1) 1 oz. (29 ml.) capacity bottle with Òeye-dropperÓ blunt applicator needle allows precise assembly with solvent cements.

SOLVENT SYRINGES (HT-8/10/12) Three Solvent Syringes for accurate and clean application of solvent cements. Blunt needle allows exact placement of solvent in hard to reach places.

SOLVENT DISPENSER (HT-612) The ideal dispenser for solvent cements. Stainless-steel pump unit with Polypropylene bottle withstands most solvents. Light pressure on dispensing dish instantly pumps desired amount of solvent into the dish. No spills, fumes or contamination. Not recommended for any viscous or bodied cements.