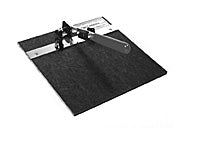 THE CHOPPER & REPLACEMENT BLADES
THE CHOPPER The Chopper from Northwest Shortline, one of the most useful tools ever for rapid and accurate cutting of wood or Styrene strip & rod and small profiles. Provides clean, neat, feather-free, accurate cuts with a single edge razor blade. Included mitre allows accurate 30°, 45° and 60° cuts. An adjustable stop permits exact duplication of pieces up to 3-1/4" (82.6mm) long. Three extra cutting blades included.
Base size 7-1/2" (190mm) x 7-1/2" (190mm).
REPLACEMENT BLADES : Code HT-702 - Pack of 8