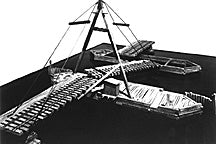 OLD-TIME MOVING BRIDGE KIT

Here is a replica of one of the first draw bridges that actually opens horizontally, not vertically, by means of a central pivot system. The real bridge, now abondoned, may be found crossing the Christina River in Delaware as part of the Pennsylvania Railroad, Delmarva division. ItÕs a scratch builderÕs dream having character and charm, and a challenge to your detailing expertise.

Dimensions shown are approximate.