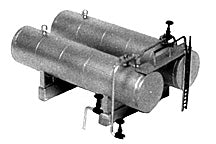 TWIN HORIZONTAL STORAGE TANK KITS

These Twin Horizontal Storage Tanks are commonly found at petroleum refineries, bulk fuel terminals or chemical plants. Other applications can include water storage or liquids used in food processing and manufacturing. Tanks featuring all-welded construction became popular in the mid-1930Õs and are still being used today.

Dimensions are approximate, and they and capacities vary dependent on scale.