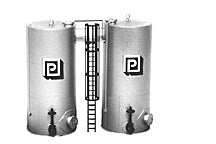 SIDE BY SIDE VERTICAL TANK KIT

These Side By Side Vertical bulk liquid storage Tanks are commonly found at petroleum refineries, bulk fuel terminals or chemical plants. Other applications include industrial fire water storage, municipal water storage or liquids used in food processing. Any product stored at atmospheric pressure is suitable for these tanks. Tanks featuring this design were commonly used beginning in the mid-1930Õs, and are still used today. The majority were built in the 1950Õs for the growing petroleum industry.

Dimensions are approximate, and they and capacities vary dependent on scale.