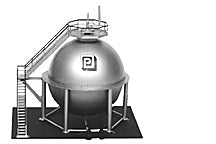 SPHERICAL STORAGE TANK KIT
Spherical Storage Tanks are primarily used to store petroleum and chemical products stored under pressure such as Benzene, Amonia, Liquid Propane and Butane. Cryogenic products such as Liquid Oxygen and Nitrogen are also stored in this type of tank. All-welded spherical tanks were constructed in the mid-1940's to present.
Dimensions are approximate, and they and capacities vary dependent on scale.