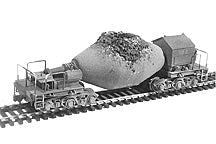 STEEL MILL BOTTLE CAR KIT

Bottle Cars are an integral and unique piece of rolling stock for the steel industry. This Kit, originally created in cooperation with Dean Freytag and Railroad Model Craftsman (RMC), allows custom construction of 2 12-wheel Pollock Bottle Cars. Kit instructions are actually the RMC article originally published in November, 1994. A must for every layout incorporating a steel mill.

TRUCKS, COUPLERS AND HARDWARE NOT INCLUDED.