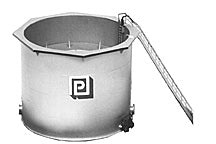 FLOATING ROOF STORAGE TANK KIT

External Floating Roof Storage Tanks primarily store oil or chemicals whose vapor pressure causes evaporation at atmospheric pressure such as Crude Oil, Gasoline, Jet Fuel and Naptha. Dangerous H2S (Hydrogen Sulfide) gases are present in all crude oils, necessitating the use of this tank. Floating roof tanks operate by the roof floating on top of the product being pumped into the tank, thus eliminating any vapor space and therefore vapor discharge. All-welded floating roof tanks were employed in the late 1940Õs, and are still being used today.

Dimensions are approximate, and they and capacities vary dependent on scale.