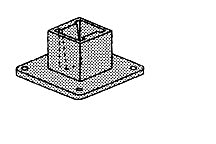 CONSTRUCTION STUDY COLUMN FOOTER
The Construction Study Column Footer provides a firm support for H-12. May be temporarily positioned with double stick tape. Use PW-12 for secure fit.
The Construction Study System and Fittings allows designers to facilitate the structural arrangement and layout of equipment and structures in preliminary form and educators to demonstrate structure design and strength in three dimensions. This quick and easy to use, and re-use, system provides complete flexibility and is presented solely as a design tool - a method of thinking and expressing in three dimensions. All parts are precision Injection Molded in Dark Gray ABS Plastic.
Designed to work only with our H-12.