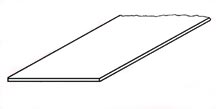 WHITE STYRENE PLAIN SHEET
Hi-Impact Polystyrene Sheet is now the second most commonly used material for general model making and vacuum forming. thin sheets may be cut by scoring with a knife, while thicker sheets should be cut with a sheet cutter. Accurately Extruded in White Styrene Plastic.
PLEASE NOTE  -  SOME ADDITIONAL SHIPPING CHARGES MAY APPLY.    If applicable, customer will be contacted prior to any additional charge applied to order.  Some International shipping rates may not apply.